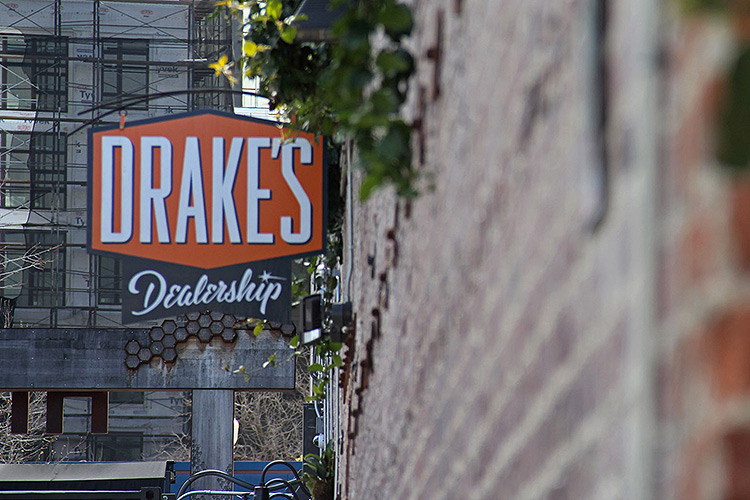 Mason at Hive's prime location gives you access to exciting activities all month long. April is full of free gaming, stand up under the stars, sipping sessions, and an oven warming party. Map out your month here:
April 1, Killer Queen Free Play Night. Get your fix and battle it out – happening every Monday at Emporium Oakland.
April 3, Moonlight Comedy: Stand Up Under the Stars! Each week features some of the best local and traveling comedians as seen on Comedy Central, HBO, MTV & Viceland.
April 5, Oakland First Fridays. On Telegraph Ave. from W. Grand to 27th St. 5:00-9:00pm
April 5, Drake's First Friday. Bring your friends and family to Drake's Barrel House every First Friday in 2019 to celebrate the work of local non-profits by enjoying local food and local beer!
April 5, Oven Warming Party. This bash will be your chance to enjoy the return of Drake's New Haven-style pizza, fresh brews on draft and spring weather in the garden.
April 5, BatchMade Market at Forage Kitchen. Taste what's cooking in Forage Kitchen with a lineup of fantastic chefs for you to taste and feast on their favorite recipes.
April 5, Impact Hub Open House. Enjoy a free full day of co-working at Impact Hub Oakland (9a – 6p).
April 6, Bibimbap Workshop with Selina Lee. Learn how to make this mixed rice dish using seasonal and accessible ingredients.
April 6, 13, 20, 27: Cereal Cinema. Enjoy classic cartoons and bottomless cereal at The New Parkway.
April 10, Sipping Sessions: Where the Wild Ales Are. Taste through 5 different beers, and talk about what the difference is between a wild ale and a sour ale, and how they both come to be.
April 11, Boogie's Comedy Slam. DeMarcus Cousins is not only a 4x NBA All-Star, 2x Gold Medalist and NBA's most dominant big man, but he is also a stand up comedy junkie.
April 12, Mystery Science Theater 3000. The New Parkway Theater presents a mystery episode of Mystery Science Theater 3000!
April 13, Sal's Greenhouse, Walk Talk, No Lovely Thing. Cruise to the Uptown for Sal's Greenhouse (Funk/Soul), Walk Talk (Rhythm and Groove), No Lovely Thing (Soul/Funk/Jazz).
April 16, The Coffee Buyers' Cupping Table: Los Volcanes Coffee of Guatemala. Join a cupping featuring fresh Guatemalan coffee from Los Volcanes Coffee.
April 17, What The Duck! Comedy Series. Drake's Dealership hosts a popular monthly comedy night, sure to quack you up.
April 20, Juicy Brews WestFest. Join Hop Culture Magazine at Drake's Dealership for unlimited pours from some of the country's best breweries, as well as music and food.
April 24, Horse Feathers & Scary Little Friends at The New Parish.
April 25, The John Mellencamp Show. LIVE at the Paramount! John Mellencamp's career in music, spanning more than 35 years.
April 26, OSA Presents: Heart Of Oakland. Experience the talent and heart at OSA during this night of impressive student showcase artwork and performances, with special guest artists.