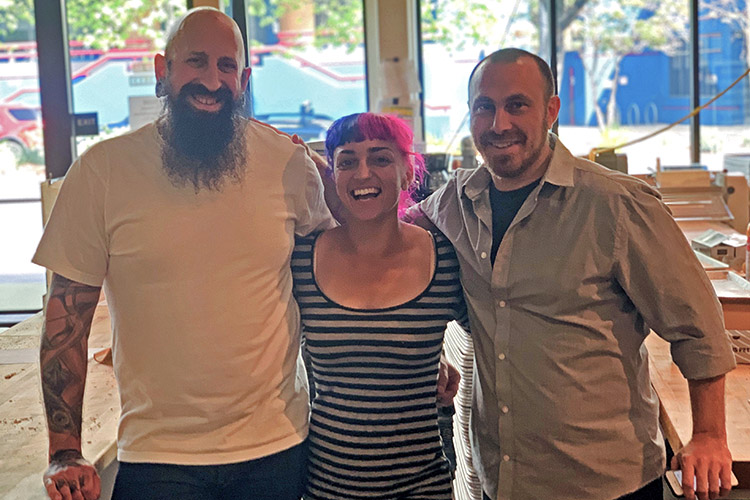 Firebrand Bread is a wood-fired brick oven bakery located at the Hive in Uptown Oakland, mere steps from Mason. Firebrand offers up handcrafted European style breads and pastries as well as seasonal breakfast, lunch and weekend brunch menus. We were able to go behind the scenes with Colleen Orlando, Retail Manager at Firebrand. Seven years ago Colleen came to Firebrand as an intern, just out of pastry school at the California Culinary Academy Le Cordon Bleu.
"I thought I wanted to eventually work in restaurants as a pastry chef but started making bread and fell in love with it." – Colleen, Firebrand
Why Colleen loves working in Uptown?
I live in Uptown as well, so most of my time is spent here. I walk to work, say "hello" to neighbors and folks who work at the businesses along the way. I catch up with our regular Firebrand customers and give pets to our doggie regulars at the bakery, and sip coffee throughout the day. I catch up with our employees and bask in being grateful for having a job I love and working with great people. After work is done, I say goodbye to my fellow Firebranders, Hive security, and neighborhood friends, walk my dog, then casually walk the lake. Maybe That's my perfect day in Uptown, and I'm happy to say I live that most days.

How did Firebrand land at The Hive in Uptown?
Firebrand was working with Inner City Advisors during the fundraising for our expansion and got connected to Signature Development Group through them. We knew we wanted the company to stay in Oakland and we wanted to have a great relationship with a landlord that would be supportive of our business. We were able to achieve both those goals in choosing The Hive.

The Hive in 3 words: "Dynamic, Friendly, Alive"
Why Firebrand?
The definition of Firebrand as found in the dictionary is on the back side of our bread bags, and reads this:
1. a person who is passionate about a particular cause, typically inciting change and taking radical action: a political firebrand.
2. a piece of burning wood.

At Firebrand, we are not only passionate about our products and our service to our customers, we are also passionate about serving the people who work for us. It's in our company's DNA to be hard working, respectful, and to serve each other. In that way, we are all Firebrands.
We also make bread in wood fired ovens, so the meaning all comes together!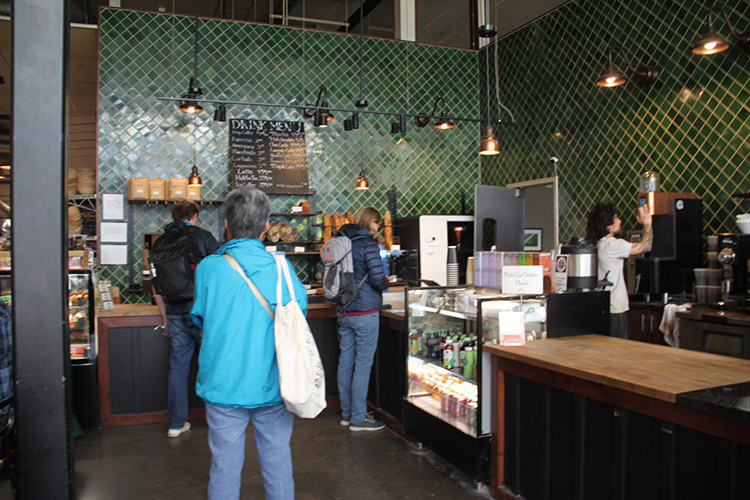 What sets Firebrand apart from other bakeries in the Bay Area, and Oakland?
We have always baked our hearth breads in a wood fired oven. We currently have two wood fired ovens. We are very ambitious with our offerings, and have a large variety of products that are still handmade and specialty.

"Our Sourdough Batard that's made in our wood fired oven is the most popular for retail as well as wholesale. The other would be our classic Firebrand Pretzel."
Baking Classes for Sourdough, Pretzels & Cookies, oh my!
I teach many of the classes offered here, and we are expanding the program. We currently offer a Sourdough 101, Pretzel Making, Cookies 101, and seasonal pastry classes with our pastry chefs.
Our most popular class is our Sourdough 101. Each student learns how to make and care for their own sourdough starter and takes it home with them. We also mix sourdough by hand and the last hour is shaping a number of baguettes, boules, and batards, which are traditional bread shapes. This is a hands-on class and new and experienced bakers can all learn something!
Our pretzel and cookies class students learn the Firebrand recipes for our pretzel, chocolate chip, and ginger cookie. We learn baking principals and students take home their baked goods!
How do you build a sense of "community" at Firebrand?
Firebrand has had a strong culture based around a mixture of hard work, friendliness, and grit form its inception. Because our company has a very hands on owner and managers work hard for their employees, that work ethic and kindness carries across the company.
Looking for catering services?
Firebrand caters for breakfast and lunch, including coffee, morning pastries, our classic breakfast sandwiches and toasts, and lunch sandwiches during the weekdays. Our catering program is great for office meetings, and for more information you can email us at [email protected].

"We love our Hive neighbors at Firebrand! Shout out to Garcia and the folks at People's who do coffee runs in the AM. Shout out to The Impact Hub where we host our manager meetings. Shout out to the folks at Drakes who come in and get a snack before clocking in for their shifts. And all the folks at Truve who get lattes and smoothies after their workouts, and Grande and the folks at Calavera for their delicious food, cocktails, and warm and friendly service." – Colleen, Firebrand

Stop by our Hive neighbor Firebrand and indulge in local fare, open weekdays 7:00 am – 5:00 pm, weekend 8:00 am – 4:00 pm.