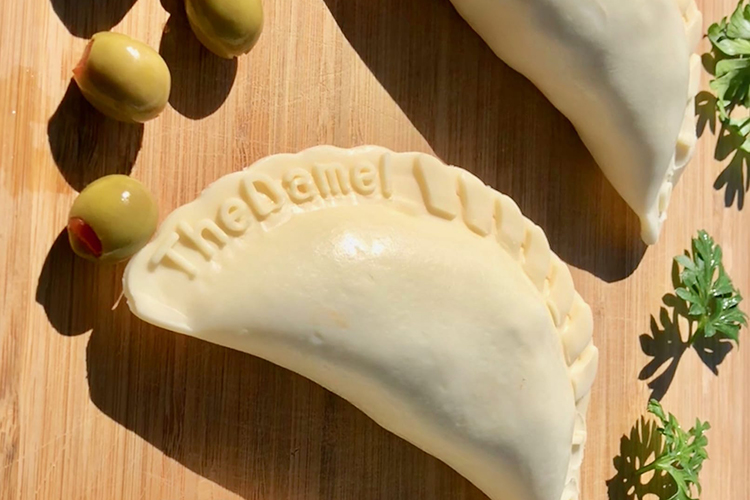 Experience the tastes of Brazil, Senegal & Argentina all in one evening. Chef Oumar and his Afro-Brazilian catering company just opened The Damel, a quick service restaurant serving Empanadas & more in the Uptown neighborhood.
The Damel brings a wonderful addition to the local foodie scene. Located at Oakland's 25th St. Taproom at 2507 Broadway, The Damel is a standalone restaurant offering a variety of empanadas filled with halal ground beef, lamb, tuna, shrimp, chicken and a house curry. Dibi with grilled lamb or chicken also is on the opening menu.
Owner Chef Oumar has been working for over 10 years in the restaurant and catering business and uses the best local ingredients to create a fusion between traditional culinary and global cooking.
In a recent SF Chronicle article, Chef Oumar highlighted the uniqueness of the new venture:
"For people that don't get to travel, that don't get to go out of the country, I think we give them a taste of the food and culture of those places they want to visit. We just do it right here in Oakland," said Diouf, a native of Senegal who has lived in South America. "People out here want to know about other cultures, about the history of food. We give them that here."
Yelpers are loving this new addition to the Uptown dining scene:
My partner and I came to Damel with high expectations and we were not disappointed. The casual vibe, the friendly staff and the flavorful dishes made for a perfect drop in experience. – Jonathan B.
Amazing food! Located inside of 25th St. Taproom (one of my favorite local bars), this place serves the best empanadas and more. My favorite is the lamp empanada and spicy chicken. I also get the lamb plate which is equally as good at the empanadas. The food is extremely affordable, fresh and made with love. Do yourself a favor, order food here, grab a drink and experience some really good flavor! – Joy M.
Excellent empanadas, in dough texture and as far as interesting and pleasant filling combinations. The chimichurri sauce is a flavorful addition to both the empanadas and more filling entrees. For my entree I got the roasted chicken dibi plate (large portion for 13$) and DELICIOUS. Lastly they have a homemade hot sauce: fire. – Tia N.
Follow all the deliciousness on their website, Facebook page and Instagram feed.
Welcome to Uptown and good luck with the new venture.
Feel right at home. Mason at Hive offers for rent residences in Downtown Oakland! Our pet-friendly community combines luxury with modern living, boasting fantastic studio, one, two, and three bedroom apartments for rent all designed with you in mind.
Image credit: The Damel Facebook page