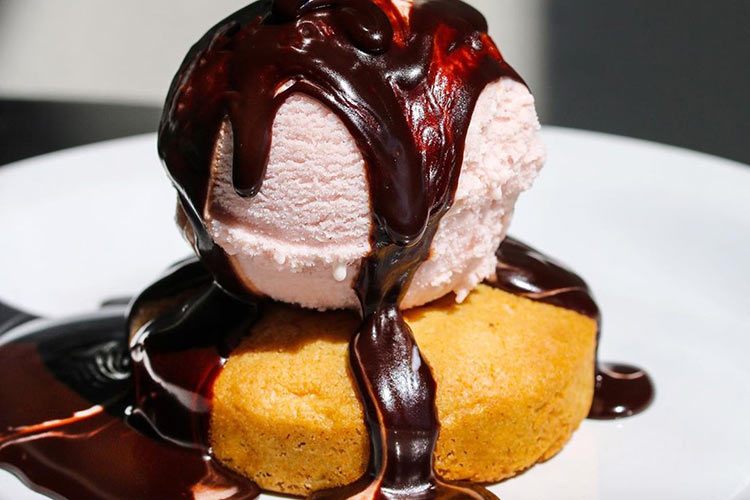 Steps from your door at Mason you'll enter into the bizarre, delicious, frozen universe of Humphry Slocombe at the HIVE, sure to please any true ice cream aficionados.
This month, your afternoon ice cream treat is about to get a little more chill. Humphry Slocombe is launching a new adults-only Strawberry Blondie Sundae with CBD in September in the two East Bay locations, including our neighbor the Hive in Oakland.
Humphry Slocombe is adding to its alcohol-enhanced ice cream flavors and experimenting with cannabidiol with the new CBD Sundae, a 5 mg CBD-infused house-made blondie topped with Strawberry Blondie ice cream (strawberry with white chocolate blondie pieces) and drizzled with hot fudge. CBD is better known as active chemicals in marijuana that are responsible for lowering stress rather than inducing euphoria. Only a limited quantity is available each day, so don't wait!
Humphry Slocombe's CBD Sundae
The CBD Sundae ($8.50) will be available at Humphry Slocombe during the month of September; you can also pick up CBD blondies ($4) minus the ice cream.
If the new chill-inducing sundae doesn't please your palate, try the classic Secret Breakfast. The best-selling flavor combines both childhood and adult favorites: cornflakes and bourbon. Once the cornflakes are baked into a crispy cookie, they are folded into a rich ice cream base infused with vanilla bean pods and bourbon.
Image credit: Humphry Slocombe on Instagram
Feel right at home. Mason at Hive offers for rent residences in Downtown Oakland! Our pet-friendly community combines luxury with modern living, boasting fantastic studio, one, two, and three bedroom apartments for rent all designed with you in mind.