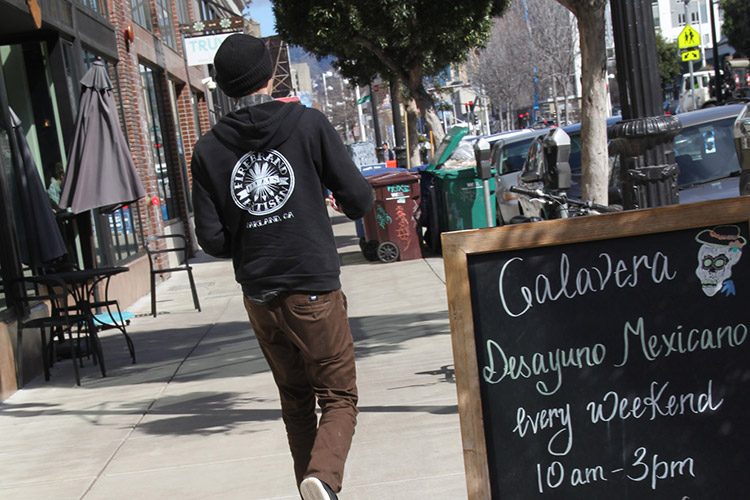 Welcome, December. We are thankful for another month of exciting local activities. Map out your month at Mason at Hive's neighborhood with food tours, First Fridays, bazaars, bingo, yoga and more.
December 3, Lunchtime Yoga Tuesdays at Impact Hub Oakland. Unwind with a one hour all-levels vinyasa flow class every week. This class is great for beginners.
December 5, Perfecting Your Pour-Over. Join the expert team at The Crown to brew on devices like the Kalita Wave, Stagg X, Clever, and V-60 and learn how to get the most – and the best – out of your coffee.
December 5, Reel Impact Festival. Marketing, branding, communication, and storytelling, as well as celebrating social entrepreneurs and impact organizations through filmmaking.
December 6, BatchMade Market. This is your monthly chance to taste what's cooking in Forage Kitchen.
December 6, Celebrate Oakland. Oakland First Fridays is celebrating native Oakland roots.
December 7, Controlla w/ DJs Ruby Red I & Guests. Head to Luka's Taproom & Lounge and catch a vibe!
December 8, Les-Sommeliers at the Alice Collective. Chef Keith Corbin- Alta- Adams of Los Angeles, CA will prepare Fried Chicken paired with Champagne; all things Sparkling and much more.
December 10, Conan Gray at Fox Theater. Conan Gray will perform at the historic Fox Theater.
December 11, Sipping Sessions: Winter Seasonals Edition. Enjoy seasonal offerings from various breweries in this fun, intimate tasting and educational discussion.
December 13, Winter Fest. Celebrate diverse winter traditions reflected in the Bay Area, including Christmas, Hanukkah and Kwanzaa during Friday Nights at the OMCA.
December 15, Sunday Bazaar. Every 3rd Sunday, Lost & Found Beer Garden hosts a free, all-ages bazaar to support our community of artists and creative types.
December 18, Boozy Bingo. Every week Telegraph hosts free bingo sponsored by a local brew house.
December 20, Winter Sessions. Enjoy a night out at nearby Uptown Nightclub.
December 21-22, Graham Lustig's "The Nutcracker". The Oakland Symphony along with the Piedmont East Bay Children's Choir bring Tchaikovsky's score to life in a charming version of "The Nutcracker".
December 27, A Very Bassy Christmas at The New Parish. Marc E. Bassy will perform at The New Parish.
December 31, Uptown Oakland Food & Drinks Tour. Oakland's exploding food scene is making headlines as one of the top travel destinations in the country, and the Uptown neighborhood is the epicenter of the action.