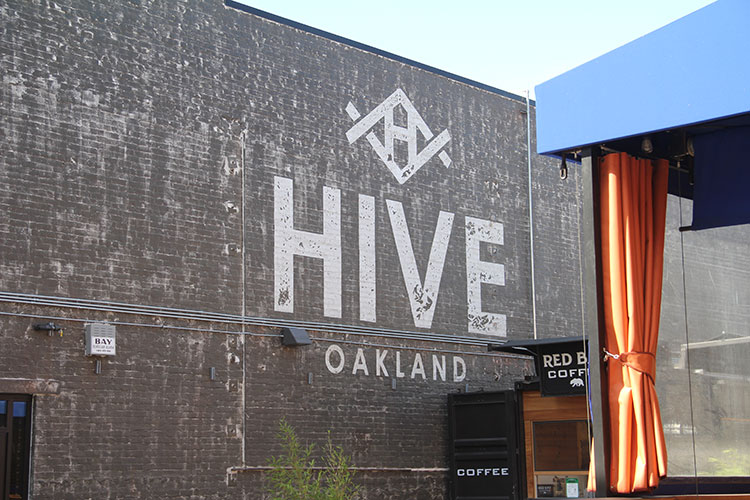 Situated in one of the city's great urban pockets, the Uptown District, the Hive is in the center of a neighborhood beloved by locals. Specialty restaurants, co-working space, and a holistic fitness center are just a few of the offerings to enjoy at the Hive, while nearby there are plenty of cafes, galleries and historic landmarks. Focusing on the dining scene, we've crafted up an entire day of dining at the HIVE!
Breakfast at Firebrand Artisan Breads. This wood-fired brick oven bakery located at the Hive, mere steps from Mason. Firebrand offers up handcrafted European style breads and pastries as well as seasonal breakfast, lunch and weekend brunch menus. Kick off your morning with a Green Machine smoothie and avocado, bacon & egg white breakfast sandwich.
Let's lunch at dosa by DOSA. Providing a stunning and versatile space that offers breakfast, lunch and dinner experiences for a wide array of occasions from social gatherings, business lunches, happy hour, and more. Lunch never looked so good. Try the Butter Chicken Dosas! South Indian savory rice and lentil crepe, served with fresh coconut and tomato chutneys and sambar, a flavorful lentil and vegetable dipping soup. Dip each bite of dosa in the sambar and chutneys…and feel free to use your hands.
Afternoon pick me up from Red Bay Coffee Box. Beautiful coffee served out of a stylish, converted shipping container. Try the Candied Yam Latte. This signature espresso combined with steamed milk and hand-crafted flavors from a beloved African-American tradition.
Dinner at Calavera. Working to provide the very best Mexican region-inspired cuisine, combined with the rebel spirit of Oakland, they create an eclectic experience. Warm up with the smoky chicken soup Caldo Tlalpeno, followed by the Cochinita Pibil. Banana leaf roasted Mayan style pork, achoite & sour orange rub, xni pec salsa, onion escabeche, arroz con frijoles – yum!
Sweet treat at Humphry Slocombe. Steps from your door at Mason you'll enter into the bizarre, delicious, frozen universe of Humphry Slocombe at the HIVE, sure to please any true ice cream aficionados. Try the classic Secret Breakfast. The best-selling flavor combines both childhood and adult favorites: cornflakes and bourbon. Once the cornflakes are baked into a crispy cookie, they are folded into a rich ice cream base infused with vanilla bean pods and bourbon.
Happy Hour at Drake's Dealership. This full-service restaurant features 32 beers on tap, that includes an indoor bar, growler filling station, and retail store with bottles and merchandise to go.The crown jewel of the beautiful space is a grand open-air beer garden, featuring fire pits, Adirondack seating, and live music several days a week. Enjoy a wood-fired pizza created by Chef Taylor Smith and sample the fresh beer, brewed in the East Bay.
Live, work, eat and connect at the Hive, a gathering place for Oakland!
Feel right at home. Mason at Hive offers for rent residences in Downtown Oakland! Our pet-friendly community combines luxury with modern living, boasting fantastic studio, one, two, and three-bedroom apartments for rent all designed with you in mind.